Letter from the CEO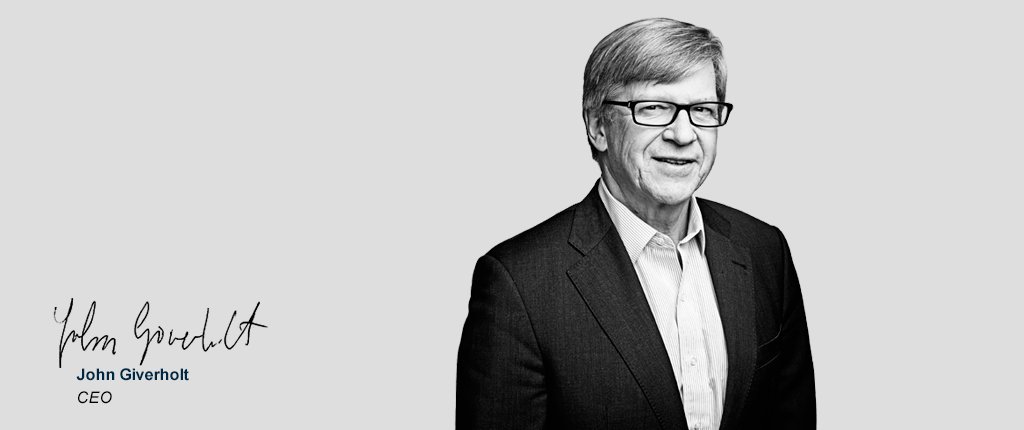 In 2015 the markets in which Ferd operates were again characterised by the low oil price, record-low interest rates and the weakness of the Norwegian krone. The group generated a return of NOK 2.0 billion or 8.1%, which is lower than the average over the last ten years but still a satisfactory result in view of the difficult market conditions.....
At the close of 2015 the group's value-adjusted equity was NOK 26.6 billion, net cash was in excess of NOK 1.0 billion, and we also had undrawn credit facilities from our banks totalling NOK 6.0 billion. Our financial resources very much enable us to 'ride out' a weak market and to use it to our advantage.
I feel certain, however, that Ferd has never been stronger than at the start of 2016 and also that our ability to make successful investments has never been greater.
Our financial resources are not the only reason for my view that there are good grounds to argue that Ferd has never been stronger. When we recruit new employees, we receive many applications from highly qualified individuals whose values coincide with Ferd's value platform. We were able to make the most of this in 2015. Furthermore, we have made significant progress towards making teamwork function throughout our organisation even better than before. This is important in order for us to make the most of the advantages we have. We continue to develop our network of partners the entire time, and we think that working well in partnership with others will be important to our success in the future.
We are very conscious of making the best use of the advantages inherent in the way Ferd is able to go about its activities.
Ferd seeks to be a long-term and consistent owner of companies – an owner that can get behind attractive growth opportunities and that can provide capital when weaker markets make this right and necessary.
Our systems for measuring and managing risk will face greater challenges in the future. After many years' work I think we have achieved a lot in this area, and risk management is now an integral part of our investment activities.
When I consider the individual business areas, large changes have taken place in 2015. Special Investments has a new head and a new strategic direction. It is pleasing to see that it has good access to high-quality projects and that several promising investments have already been made. Ferd Hedge Fund has started to invest using its new mandate, Global Fund Opportunities, opening up new opportunities for us. Ferd Real Estate has been very adept at exploiting the whole range of investment opportunities that a strong real estate market has offered. The new head of Ferd Invest and its strengthened investment team are paving the way for both the business area and its results to continue to make progress.
Having owned TeleComputing for six years, we decided to sell the company and hand over the responsibility for its continuing development to a new owner. TeleComputing was a very successful investment for Ferd, and this was the right time for us to realise the profit, even though the company does have good future prospects.
Approximately 12% of Ferd's value-adjusted equity is invested in oil and gas-related companies. Aibel, Interwell and PGS are the largest investments in this sector, but Servi too has significant exposure to the market for new build oil rigs. All these investments decreased in value in 2015 due to the dramatic slump in the oil service market. The companies in Ferd's portfolio in this sector have been very quick to take the action needed to adapt their businesses and capacity to the difficult market conditions, and this has unfortunately also led to sizeable headcount reductions. Aibel started 2016 with a larger order book than ever before, having beaten strong international competition to win the contract to engineer, procure and construct the deck of the drilling platform for the Johan Sverdrup field. Statoil also showed its continuing confidence in Aibel by awarding it a framework agreement for maintenance and modification services for offshore and land-based installations. PGS strengthened its position as a strong player in the seismic market in 2015.
Elopak is Ferd's largest investment and is therefore of great significance to Ferd's overall return. Elopak is encountering strong competition in its principal markets and is seeing its largest customers become even larger as a result of mergers and acquisitions. Elopak has succeeded in gaining market share by launching newly developed products which have been well received in the market. Several of Elopak's projects, including one in the sizeable aseptic packaging market, are now starting to bear fruit. There is reason to expect that Elopak will produce better results and will perform better as an investment in the years ahead.
The low interest rates in Norway will probably be in place for a long time, and we might actually see negative rates. 'Lower for longer' with regard to the oil price is a scenario we need to be prepared for. Against this background the Norwegian krone will remain weak. If access to credit also tightens, the expression 'cash is king' will take on a new relevance.
Expectations of the returns it will be possible to achieve in the future need to be revised down and adjusted to the low interest rate environment. We are, however, finding that there is good access to attractive investment opportunities and that Ferd's financial strength, liquidity and flexibility mean we are well positioned in the market.
We think that the advantages that our family ownership gives us will prove to be increasingly important when it comes to staying ahead of the competition in relation to good investment opportunities.